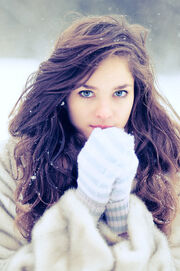 Shields Ann Lone is a 15 year old camper at Camp Half Blood. All her friends call her Swords. She is a daugter of Poseidon. She is roleplay by Trixie19.
Bioghraphy
Edit
Sheilds was born on May 22. Then 2 years later Macy was born. When Poseidon left her mother Brittney Lone she was heart broken and took it out on her daughters. She later re-married to Shields' step-father father Peater Clark. They had another daughter Jamey. Shields and Macy loved Jamey. When Shields was 6 and Macy was 4, Jamey and their parents died in a fire. Sheilds and Macy were so sad their little sister had died that day. They were orphaned and left to fend for themselves. They were sent to a boarding school. When they were out of school they stayed at their grand-father's house (no not Kronos). Their grand-father was so nice. He let the sisters do whatever they wanted (within reason) as long as they read an hour a day. On day the school satyr, Sam tood them they were demi-gods. Macy understoud the term because she read all the Greek Mythes. Sheilds only read romances or science fiction. Sam took them to Camp Half-Blood from Califonia. Sheilds was age 13 and Macy was 11 at that time of arival. They were of course welcome. Macy and Sheilds love Camp Half-Blood.
Appearance
Edit
Shields has brown hair and deep blue eyes. She has perfect pink lips.
Alliances
Edit
​
Weapons/Powers
Edit
She has a sword, bow and quiver, 2 daggers as her weapons.

She can control very small parts of water.
She can hold her brearh for 10 minutes underwater.