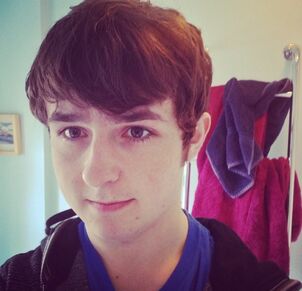 Michael Harvey is a demigod son of Hephaestus. His roleplayer is MC Potions.
Biography
Edit
Michael is the son of Katie Harvey and Hephaestus. They met when Hephaestus was at her weapons shop looking for ideas for a sword to give to Ares. Soon after, Hephaestus proposed to her with a ring crafted from a 50 cal. bullet because she loved guns. When Michael was 3, Hephaestus left him and his mom. After this his mom Katie fell into a depression which Michael helped her get out of. He helped work at his mom's gun shop till he was 14, then it was attacked by a Cyclops. Michael killed it with a bow and arrow that he picked up in the destruction. Michael sent his mom to his grandparents and made his way to Camp Half-blood. As he made his way to New York he realized his most important power, being the control of fire. After he arrived at Camp he was claimed by Hephaestus not even 3 minutes after. Even though he holds some resent towards his father for leaving, he looks up to him and is always out to please him.
Early Life
Edit
As Michael traveled from his home state of Alabama (here come the redneck comments), he learned to control his ADHD. He acheived this through constantly building and unbuilding a toy pistol he got as a present from his Mom. Michael is mostly calm, cool, and collective. He can be a loner sometimes, but his ADHD makes him a little on the crazy side,the good kind, once you get to know him. He is fairly smart for being 15; he had the talent of being able to take apart, study, and rebuild alomst any machinery. His true love, however, is guns, which made the switch from firearm to bow and arrow a little tricky for Michael. He grew up in a pretty good home. His mom did well for herself and never remarried, so they managed to live pretty good lives for a while.   
Appearance
Edit
Michael is about 6 foot even with shaggy brown hair. He has forest green eyes that glow firery red when he's angry. He has a Southern accent and some facial hair. He wears a cross necklace that morphs to fit any lock, meaning he can unlock most anything.
Alliances
Edit
Powers/Abilities/Weapons
Edit
Has very fast reflexes for a child of Hephaestus
Can build most anything in a relatively short time
Can summon and control fire exceptionally well.
He has a magical iPhone that can hack any machine and become either a sword or an axe.
He has a cross necklace that acts as a skeleton key
| | | | | | |
| --- | --- | --- | --- | --- | --- |
| Time | Monday | Tuesday | Wednesday | Thursday | Friday |
| 08:00 AM-09:00 AM | Breakfast and cabin inspection | Breakfast and cabin inspection | Breakfast and cabin inspection | Breakfast and cabin inspection | Breakfast and cabin inspection |
| 09:00 AM-10:30 AM | Ancient Greek with Jessica Johnson | Ancient Greek with Jess | Ancient Greek with Jess | Ancient Greek with Leo Valdez | Ancient Greek with Jess |
| 10:30 AM-11:00 AM | Lunch Preparation | Store checks | Cleaning Armory | Fire Training | Programming iPhone |
| 11:00 AM-12:00 PM | Building Stuff | Workouts | Axe skills | Monster assault techniques | Building Stuff |
| 12:00 PM-12:30 PM | Greek Mythology with Kyle | Greek Mythology with Kyle | Greek Mythology with Kyle | Greek Mythology with Kyle | Greek Mythology with Kyle |
| 12:30 PM-1:30 PM | Lunch with Jess | Lunch with Jess | Lunch with Jess | Lunch with Jess | Lunch with Jess |
| 1:30 PM-3:30 PM | Work on Argo II | Pranking | Nap Time | Co-Counselor Meeting | Basketball |
| 3:30 PM-5:00 PM | Letters Home | Activate Cabin clean-up Drone | Laundry | Wood-chopping | Firework-making |
| 5:00 PM-6:00 PM | Free time | Free time | Free time | Free time | Free time |
| 6:00 PM-7:00 PM | Dinner | Dinner | Dinner | Dinner | Dinner |
| 7:00 PM-9:00 PM | Basketball League | Unarmed combat with Jess | Date with Jess | Trials of strength | Capture the Flag against groups of campers or the Hunters of Artemis |
| 9:00 PM-10:00 PM | Campfire singalong with Apollo's cabin | Campfire singalong with Apollo's cabin | Campfire singalong with Apollo's cabin | Campfire singalong with Apollo's cabin | Campfire singalong with Apollo's cabin  |